SF Bike & Roll Week 2021
May 10, 2021

-

May 14, 2021
The annual celebration will take place citywide May 10-14 
The SF Safe Routes to School Partnership is excited to announce our annual SF Bike & Roll Week celebration, May 10-14. Bike & Roll Week, organized by the SF Bicycle Coalition, is for students city-wide to celebrate getting around under your own power. Whether you're on a bike, scooter, wheelchair, or skateboard, it's healthy, green, and FUN. Walking counts too!
Check out all the fun activities and prizes HERE!
This year we have great activities for different age levels to participate remotely, but in collaboration with friends and peers. For elementary school students, the Five Senses Challenge connects getting out on wheels with exploring your neighborhood through your senses. Entire classes or Community Hub cohorts can participate, or you can take part as an individual. For middle and high school students, we're creating a fun, innovative app-based scavenger hunt game with our friends at Handstand that will get students out on their bikes and other wheels. And all ages can participate in our annual Bike & Roll Art Contest. Activities include awesome prizes from partners like Timbuk2, Cleary Bikes, Mike's Bikes, and more!
Whether you're a student, a parent or caregiver, or a teacher, check out and sign up for all of our offerings today. Resources in multiple languages coming soon.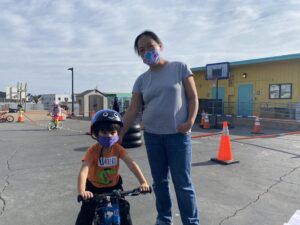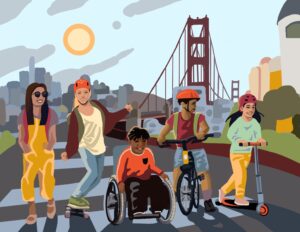 Our Calendar Policy
* Events not officially sponsored or organized by Safe Routes to School are marked with an asterisk. We post events that might be of interest to our SF area members; we do not necessarily endorse any particular group or perspective you may find represented here.