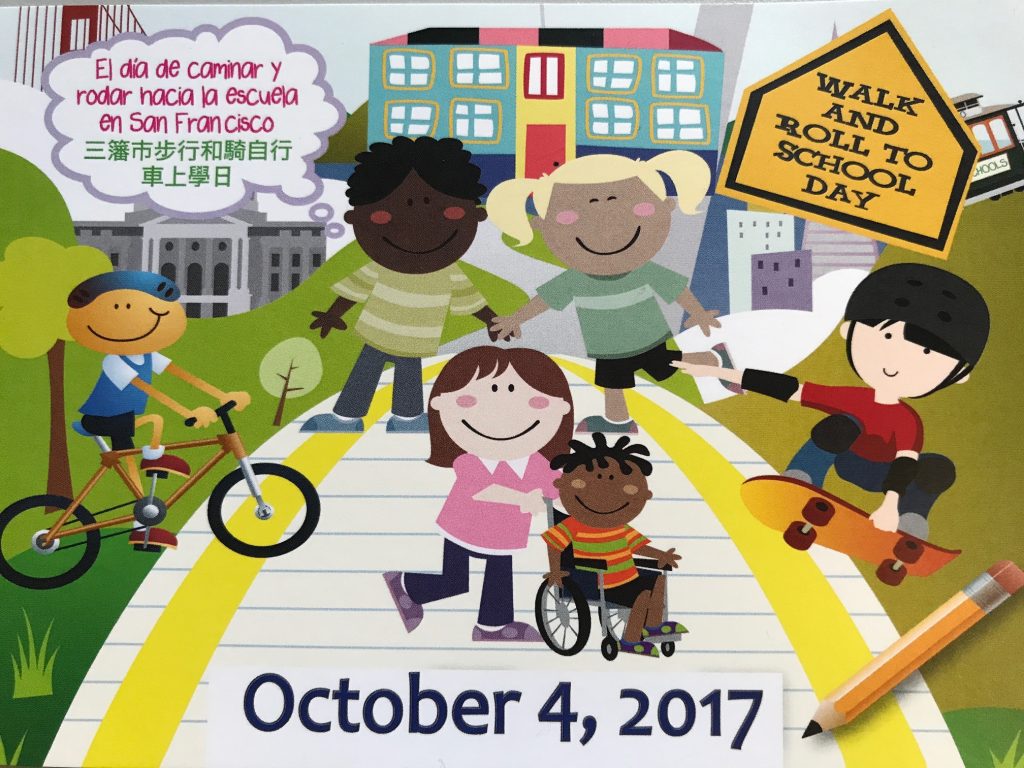 Thank you to all the schools who participated in the 2017 Walk and Roll to School Day!
Please check back again for 2018 event details!
SAN FRANCISCO'S 21ST ANNUAL WALK & ROLL to SCHOOL DAY!
Start a fun, healthy habit for you and your children at this year's International Walk & Roll to School Day on Wednesday, October 4, 2017. Join parents, caregivers and children in over 40 countries and all 50 states, who will be walking and rolling to school together!
Studies show walking not only improves your children's physical well being, but also their academic performance.
Celebrate walking and rolling to school on the morning of October 4th! Last year, San Francisco had 95 schools and 13,000+ students take part in this, citywide event. In 2016, over 85% of San Francisco Unified public elementary schools took part in this day of encouragement for the healthiest, most sustainable, and fun way to get to school!
This year, to help mark the 21st anniversary, bring Walk & Roll to School Day to a record-breaking 100 schools and 16,000 students across the city!
Don't miss out on FREE giveaways from the Safe Routes to School Partnership (supplies are limited).  It's easy (and fun) to bring a Walk & Roll to School Day event to your child's school.
Download the Walk and Roll to School Day Toolkit here!
For more information, contact Walk San Francisco at (415) 431-9255 or via email at SafeRoutestoSchool@walksf.org
REGISTERED SCHOOLS
Alamo School
Alice Fong Yu Alternative School
Argonne Elementary
Bessie Carmichael School
Bret Harte
Buena Vista Horace Mann
Cesar Chavez Elementary School
Children's Day School
Chinese Education Center
Chinese Immersion School at DeAvila
Claire Lilienthal
Clarendon
Cleveland Elementary
Commodore Sloat Elementary School
convent of the sacred heart
Creative Arts Charter School
Daniel Webster Elementary
De Marillac Academy
Dianne Feinstein
Dr. George Washington Carver
ER Taylor
Fairmount
Francis Scott Key Elementary School
Francisco Middle School
Frank McCoppin Elementary
Garfield Elementary School
George Moscone
George Peabody Elementary School
Glen Park School
Golden Bridges School
Gordon J. Lau
Grattan Elementary
Guadalupe Elementary
James Denman
Jean Parker ES
Jefferson Elementary School
John Yehall Chin Elementary School
La Scuola International School
Lakeshore Elementary
Longfellow ES
Lycee Francais de San Francisco
Marin Preparatory School
Marshall Elementary
Miraloma Cooperative Nursery School
Mission Education Center
Mission Montessori
Monroe Elementary School
New Traditions Elementary School
Paul Revere
Peter's Place Nursery School
Robert Louis Stevenson
Roosevelt Middle School
Rosa Parks Elementary
Ruth Asawa SOTA
San Francisco Community School
San Francisco Day School
San Francisco Public Montessori
San Francisco Waldorf School
Sanchez Elementary School
Sheridan Elementary
Sherman Elementary
Spring Valley
St. John the Evangelist School
Stratford School
Sunnyside Elementary
Sunset Elementary School
Sutro
Synergy School
Telegraph Hill Neighborhood Center
The San Francisco School
Ulloa Elementary School
West Portal Elementary
Yick Wo Elementary